News
Vitro and El Pollo Loco Debut Mariachis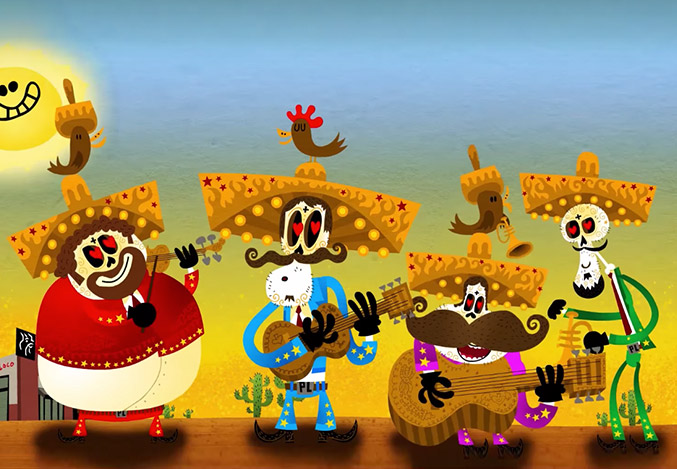 El Pollo Loco is letting its loco side show a little more with a playful new social video series featuring animated Dia De Los Muertos mariachis singing about the virtues of fire-grilled chicken.
Sing along to the first two videos of the series:
El Pollo Loco | Eating Low Cal
El Pollo Loco | Respect the Chicken
It's the latest work in VITRO's two-year relationship with El Pollo Loco, crafting messages that celebrate the brand's Mexican-inspired and Los Angeles roots. It's all about embracing the brand's heritage and the imagery that surrounds it.
According to Chief Marketing Officer of El Pollo Loco, Ed Valle, "We're excited to release these fun and engaging videos that pay homage to the Mexican culture that has long been the foundation of El Pollo Loco's authentic and flavorful offerings. This series further elevates our brand story and celebrates our passion for preparing delicious, hand-crafted Mexican entrées that are made with the freshest ingredients and provide a healthier alternative to typical fast food."
"El Pollo Loco presents…" campaign details
VITRO concepted the songs and brought in Shindig music and illustrator/animator Jorge Gutierrez — the artist behind the film "The Book of Life" — to craft an engaging vision for the tracks and videos. All songs were performed by an actual five-piece mariachi band based out of Indio, California.
The creative is a simple, breakthrough way of touting some of El Pollo Loco's most differentiating assets, from real cooking to fresh prep to ripe avocado on everything from burritos to salads. The mariachis do a wonderful job of packaging real, hard information about the El Pollo Loco difference in a charming, engaging way.
"The idea of using mariachis for El Pollo Loco was a natural one for us. The brand has so much history and Mexican-American heritage that it was just a natural fit," said Tom Sullivan, Chief Executive Officer of VITRO. "As far as execution, we wanted to ensure that the concept was authentic to El Pollo Loco's roots but still carried a current, playful and a pop-culture feel – teaming up with Jorge Gutierrez for the illustrations and working with an outstanding group of real mariachis went a long way to accomplishing that."
The campaign consists of five original animated videos, each telling the story of an El Pollo Loco brand pillar. It is launching with the first two videos and the following three will be rolled out over time.
VITRO team credits
Head of Client Services: Stephanie Kendrick
Account Director: Hazel Aliaga
Account Supervisor: Stefanie Meehan
Chief Creative Officer: John Vitro
Executive Creative Directors: Jake Camozzi / Victor Camozzi
Creative Director: Joel Guidry
Art Directors: Alfonso Ruiz, Katherine Stewart
Copywriters: Dan Azneer, Neil Schaak
Director of Integrated Communications: Patrick Rust
Senior Social Manager: Mison Henley
Illustrator: Jorge Gutierrez
Animator: Amitai Plasse
Music/Composition: Shindig
"El Pollo Loco presents…" coverage: