News
VITRO and Astroglide launch a campaign to close the orgasm gap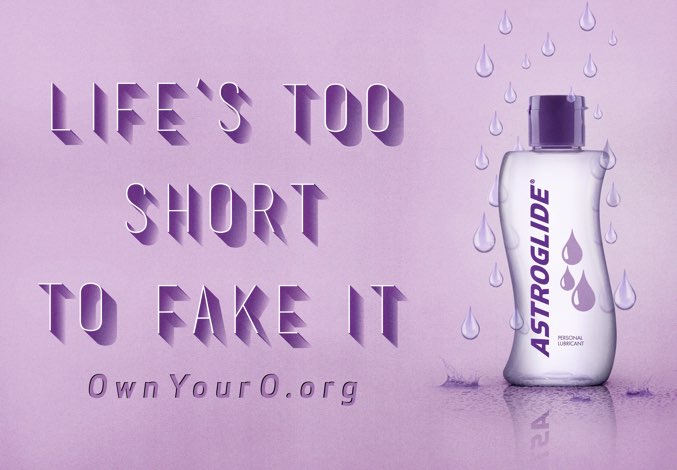 Astroglide, a popular personal lubricant brand, was in need of a new campaign that would drive brand awareness, consideration and ultimately product purchase. In a category where they fall second to KY, and where product usage only exists with 12% of the adult population in the US, the brand needed to do something that could break past dominant competitors and overcome broader consumer hesitations.
The creative strategy
We identified that nearly all men climax during sex, but much fewer women do. In fact, studies have shown that almost 80% of women have faked an orgasm with their partner, and that men tend to overestimate their female partners' pleasure in bed. The result is a significant 'orgasm gap' – which means, quite simply, women aren't having as many orgasms as their male partners.
Female equality is a movement in politics, in the workforce and in households. There's no reason women shouldn't also be equals in the bedroom. Not to mention, women are driving category growth, and owning the majority of purchase decisions in the category.
It became clear we needed to lean into our female audience, and we did so with the creation of our "Life's Too Short To Fake It" brand campaign and activation.
The idea was to empower women to have open conversations about female pleasure and what it takes for a woman to climax, and for men to feel empowered to ask their partners to be explicit about their needs. And because studies have shown that increased lubrication can help women experience more sexual pleasure and satisfaction in bed, Astroglide was the perfect brand to lead this charge.
Rolling out the campaign
To launch the campaign, we created a series of artwork across the "Life's Too Short To Fake It" platform. We ran messaging across targeted digital, while leaning into one specifically relevant execution – "Fake Fur, Not Orgasms" – for our activation at 2019 New York Fashion Week. This message came to life through a centerpiece OOH billboard in the heart of SoHo.
We also surrounded downtown Manhattan with wild postings touting other contextually relevant campaign messages like: Fake Diamonds, Not Orgasms, Fake Lashes, Fake Nails, Fake Tans, and of course Life's Too Short To Fake It.
Artwork series:
Wild posting experience:
Centerpiece OOH billboard:
But that's not all. Our brand activation surrounded the streets of New York Fashion Week, and other high-trafficked areas of NYC such as Times Square, Grand Central, and NYU's Washington Square Park with street teams and influencers donned in purple faux-fur jackets that read "Fake Fur, Not Orgasms".
These teams amplified the campaign message, handed out branded giveaways and Astroglide product samples in exchange for participation in a short survey on OwnYourO.org, which further explores the topic of faking orgasms, and aims to round out the data on the "orgasm gap".
This New York Fashion Week activation was the first tentpole of the 2019 campaign for Astroglide, and drove over 500K OOH impressions, 8.2M digital impressions and over 7k survey responses in just two weeks.